Dichroic glass jewellery courses
dates • course description • testimonials • accommodation • booking form • follow up manufacturing day • more photos
Hi...I'm John Dunn. Thank you for your enquiry re a weekend course in making Dichroic glass jewellery. Dichroic glass is a very exciting medium to work in and allows you to express your creativity through exploring the qualities of light, colour and iridescence. The alchemy of the kiln on Dichroic glass fuses your ideas together and is an added bonus.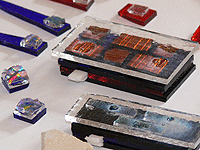 I focus on giving students that extra 10% to give you a commercial 'edge' should you wish to sell your work after you leave the course. There is a lot of fairly awful dichroic glass out there. We focus on quality. We make 'opals' ! It doesn't need too much dexterity.

Beginners are also welcomed on these courses. We are all artists in ourselves. It is just a question of pushing the right "buttons" to reveal our abilities. Your tutor .. myself.. is well experienced in doing just that.
The studio is a large fully professional glass and ceramics studio beautifully situated on Brighton Beach, away from the traffic....you will need to like the sound of seagulls...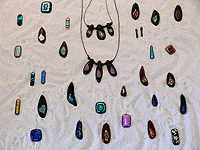 It is fully anticipated that by the end of the weekend course you will have produced dichroic glass jewellery at least equal in value to the course fee....pendants..earrings ...'Bling' brooches etc. There will also be a limited discussion on fusing glass dishes with dichroic. (testimonials)

The course fee is £155 and includes all base glass. The deposit is £55. The balance is payable on the course. Dichroic glass is charged extra as used and should be about £20.
What should I expect from this course ?
Best post course support anywhere!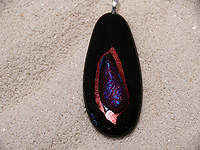 I strongly believe in supporting students after the course to resolve technical queries.
You can e-mail or phone me and I will help you resolve your problems.
Additionally you can have use of the studio kiln until such a time as you decide to acquire your own.

Manufacturing day.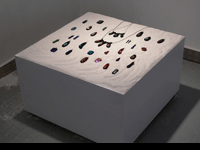 For people who are familiar with the making of dichroic glass jewellery I offer a manufacturing day, supervised, in the studio.
Price per day including kiln firing £53.00 glass charged as used. You do not need to have attended one of my courses to use this facility. I may be able to accomodate your suggested date please e-mail me.
Full membership of the studio is currently available to glass artists with access to all relevant equipment. Please enquire.
[ top ]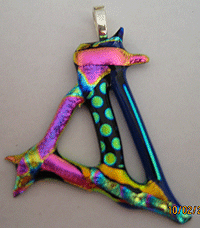 Accommodation is not included but I am able to advise 'Best Value' when I know your needs. I also have a short list of recommended places for your stay.
Download the "print and post" booking form here.
or e-mail / telephone me ... with questions no doubt... and I will send you a booking form.
Class sizes are usually limited to 5 people so that I am able to give you personal tuition and meet your needs. Classes usually 'gel' in the first ten minutes....you should find yourself amongst friends.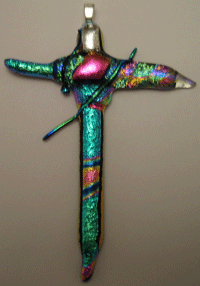 Students tell me that:-
"This is the best weekend dichroic glass jewellery course"
"Best teaching"
"Best results"
"Best location"
"Best value for money"

"If you disagree with any of the above 5 points then I offer you a full refund"
Feel free to phone me any further questions
01273 725013 or 01273 602299
Still recognised as the most intensive weekend glass fusing and slumping course in Britain - "I learned so much... We worked hard and fast and it was fun and rewarding"
Next course dates:
Courses are over the weekend.
Saturday 10.30am to 5pm
Sunday 10am to 5pm
New course dates will be scheduled for the new year (2015) Please keep in touch with this website for further announcements.
Late bookings and urgent enquiries ...
text or chat to 07990 968 714
Weekend course fee £155 ( booking form )
One day intensive course £85 ( booking form )
The studio is located at beach level mid point between the Palace pier & West pier. (map)

I look forward to hearing from you.
"print and post" booking form.
Best Wishes
John
Course description • testimonials • accomodation • booking form • follow up manufacturing day • more photos